Practice engagement models
Due to varying engagement and priorities of commissioners three different approaches have been used in the engagement of organisations in JIGSAW-E within the UK:
The top-down incentivised scheme was offered across practices associated with one clinical commissioning group. Practices were offered a flat-rate payment based on practice list size and not on achievement. This approach resulted in relatively rapid uptake in e-template installation and training across over 20 practices. However, engagement may not be uniform across all practices.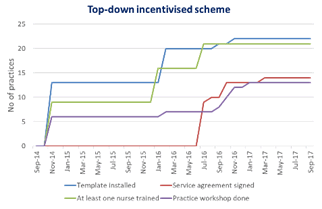 The top-down pilot site approach which relied on interest pilot sites to take part, supported by the clinical commissioning group but not incentivised, resulted in slower uptake across fewer practices.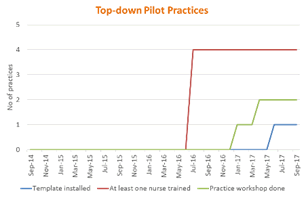 Group-up approaches have resulted from individual organisations expressing an interest in participating in JIGSAW-E. This, again, has resulted in slower uptake of innovations. While there has been some indication there may be better engagement with recording high quality care among some of these practices, the vast heterogeneity between practices does not provide certainty about this.