GPwSI in Rheumatology and Musculoskeletal Medicine / JIGSAW-E GP Champion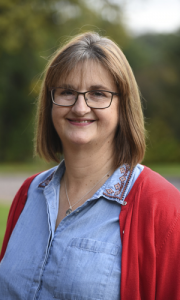 • I graduated from Manchester University in 1985 and have worked as a GP since then.
• I obtained the Diploma in Musculoskeletal Medicine in 2009.
• I am a fellow of the Royal College of General Practitioners
• I am currently a GPwSI in Rheumatology and Musculoskeletal Medicine for NHS Telford and Wrekin and Medical Lead for Telford MKS service, seeing a wide variety of patients with MSK and Rheumatology problems.
• I am an Associate Medical Director for Shropshire Community NHS Trust
• I am involved in research at Keele University and I am one of their GP champions working in Primary Care MSK research and dissemination.
I am also past President of the Primary Care Rheumatology Society
I am was a trustee of ARMA until recently.
I was one of the Clinical Guidelines Group who prepared the NICE Guidelines for the Management of Rheumatoid Arthritis in Adults which was released in 2009, and am now involved in the Guidelines for Spondyloarthropathy and also a review of the Rheumatoid Arthritis NICE guidelines.
I have edited a textbook of musculoskeletal disorders for Primary Care for the Royal College of GPs; this is part of their curriculum series.
I have been involved in GP education for a number of years; Rheumatology and MSK education in the main and have arranged several MSK conferences for the RCGP and Keele University.
I am a member of the British Society for Rheumatology Education and Training Committee.
Dr Louise Warburton
M.B. Ch.B. DFFP.DRCOG. FRCGP. DM-SMed
GPwSI in Rheumatology and Musculoskeletal Medicine
NHS Telford and Wrekin
Louise.warburton1@nhs.net