Impact Accelerator Unit Project Support / JIGSAW-E Knowledge Broker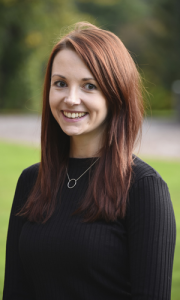 Laura supports the coordination of implementing quality innovations into real world practice, bridging the evidence to practice gap. The role supports clinical and academic members of the IAU to deliver key innovation projects through collaborations between the West Midlands Academic Health Science Network (AHSN), national and international funders, patient organisations and project partners.
Laura coordinates patient and public involvement in the unit, identifying opportunities for the patient voice to be effective and meaningful. She chairs and coordinates the LINK group (Lay Involvement in Knowledge Mobilisation) – service users who work with the IAU to get research into practice.
Part of Laura's role is to act as a Knowledge Broker, bringing together people, building relationships and sharing ideas, information and evidence. She is a Haywood Research and Development Foundation committee member.
She is the lead Midlands Regional Representative for the Scoliosis Association UK and works with Royal Stoke University Hospital to help improve patient experience. She jointly set up Back2Back, a patient support group, has co-produced a patient guide to spinal surgery and advises the strategic clinical spinal network in the West Midlands.
She graduated from the University of Bath in 2008 with a degree in French, German and European Studies.